Do not wear high heels all day long. If you must wear them, keep the time you are clad as short as possible. Wearing heels puts too much pressure on the balls of your feet and this will cause you a lot of problems in the future. Carry along flats so you can interchange them as you see fit.
When shopping for high heels, it is important that they fit properly to protect your feet. Improperly fitting shoes cause a variety of foot problems including ingrown toenails, bunions and calluses. By purchasing a high heel that fits correctly, you can protect your feet from unnecessary injuries associated with ill fitting footwear.
Whenever you go shoe shopping, wear or bring the same type of socks that you will be wearing with the shoes you intend to buy. If you don't try the sizes on while wearing these socks, you really can't get a good idea about the actual fit. Avoid trying shoes on barefoot or with nylons too, unless they are heels or sandals.
Don't buy a pair of shoes that you have trouble walking in. Too many people do this, especially when it comes to dress shoes and high heels. If you cannot realistically wear it, then it is a waste of money. There is bound to be a shoe that looks great and is easy to walk in, so keep looking.
If you're someone who has to get high heels because they make your legs look longer, try to make sure they're not damaging your feet too much. Look for cushioned inserts that fit high heels. If you do this, you will feel more comfortable wearing those favorite shoes of yours and you will protect your toes from injury.
When you buy heels, be sure they fit properly. Walk in them around the store for a while. The back of the shoe should not ride up and down on your heel. If your shoes do this, they can become quite uncomfortable and hard to walk in.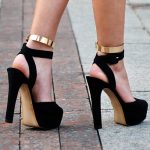 Photo by FashionbyHe